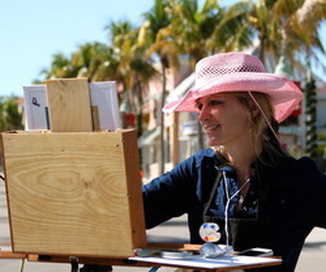 TRACY OWEN CULLIMORE FWS*
- FINE ART PAINTER
Welcome
to my colorful view of the world
where everything I see might become a painting.
I'm a daily painter recording life's little moments with a little more color, a little more beauty and a lot more emotion. I hope it makes your life a whole lot brighter.
Specializing in portraits of pets and people,
I proudly use traditional means of hand drawing and painting in oil, watercolor or charcoal, resulting in an honest interpretation that expresses the nuances and unique character of my subject. "I can honestly say
that I know my work has been a success if my clients cry happy tears when the image springs to life."
I occasionally enjoy "En Plein Aire", on-site painting to capture the essence of nature around me.
I love to paint pretty much anything and accept commissions on a variety of subjects.
Painting more than just a likeness, by seeing with with my heart -
to the personality behind the face and the spirit of the moment.
​* FWS
SIGNATURE STATUS- FLORIDA WATERCOLOR SOCIETY
proud member of The American Impressionist Society
Education: University of California and Master Artists : C Anderson, Q Ho , CW Mundy,
and Knudson, Mollica and Yeliseyev -too many to list
CLICK HERE TO VIEW TESTIMONIALS FROM VERY HAPPY CLIENTS
(more important than the other info)
​
---